keys lost? What do I do: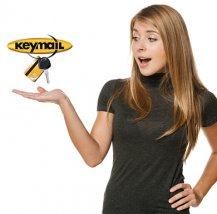 A big fright: Did I lose or only misplace my keys?
Did you lose your keys? First try to remember when you last had your keys and where you placed them. In the pockets of trousers or a jacket – or perhaps in a bag? If your keys fell out of your pocket, they're often "hiding" in upholstery. House or flat keys are often lost among clothes, papers, or common objects…
Review your day, trace your steps, and look between your car seats. If you can't find your keys, the following tips will help to avert damage.
House or flat keys lost? Precautions for lost keys.
If you indeed lost your house or flat keys, it's important to take precautions. Can your address be determined by the keys or other lost objects, e.g. ID? To prevent a burglary, in this case you should promptly have the lock replaced.
If you are renting your house or flat, notify your landlord promptly. Even if your keys can't be linked with your address, replacing the lock is the safest solution.
Master-key systems with safety key require a full replacement – all flats have their locks replaced. Contact your liability insurance so you won't have to pay the expense yourself.
Lost car or bike keys: What do I do?
You lost your key ring with your car or bike key? Report your car key lost to your physical damage insurance – preferably in writing. Order a new key from the authorised dealer. If you're worried about your car being stolen, also notify the police. If you lost your bike keys along with other keys, replace all of the affected locks.
Lost your work key? You must notify your employer
Losing the key to your workplace isn't the end of the world. It can happen to anybody! Simply notify your employer or your supervisor.
Deposited spare key spares expenses in an emergency
To ensure you are able to enter your flat or house if your keys are lost, you should deposit a spare key to access at any time with somebody you trust. This emergency key will spare the expense of a locksmith.
It doesn't get any easier: With keymail your keys are returned to you
Anybody could lose their keys – so take precautions and ensure your keys will be returned. How? With keymail! A success rate of 97 percent and millions of satisfied customers speak for themselves: The unmatched original has been ensuring keys are soon returned to you - since 1982. All this with a high quality metal key tag.
Post box return service - safe, fast, worldwide
The keymail post box return service is simple, and the brilliant key tag makes it easy for the finder: The key tag asks the finder to place the unpacked keys in the next post box. It is then quickly and safely returned to you by post.
SMS service sends finder's contact number
The SMS lost & found system by keymail has an embossed telephone number for the finder to text. If keymail has your mobile number, you will promptly return an anonymous message with the number of the finder. This service works 24 hours a day, 365 days a year. This quick option to contact the finder eliminates expensive locksmith calls. If we do not have your number, the finder will receive a text, prompting him/her to place the keys in the nearest post box.
Summary: Steps to take for lost keys
Replace the affected locks.
Notify your landlord if the master key is lost and report the keys lost to your liability insurance.
Notify your employer or supervisor if your work key is lost.
For lost car keys: Notify your physical damage insurance and order a new key from the authorised dealer.
Remember: If you do not report the keys lost and there are problems, your landlord and your boss can still take action against you for damages years later.
Choose the right service to keep your keys secure in the future:
Key lost & found system comparison