Key tag with company logo as a promotional gift for customers and members
keymail ensures lost keys are safely and quickly returned to their owner. Your customers, employees, business partners or club members will also benefit from having a keymail with your logo. Give five years of security and convenience – there's no better or more lasting way to advertise your business!
keymail with custom logo is more than a regular key fob with company logo: After all the key tag is literally worth its weight in gold and eliminates a lot of time, trouble, and expenses. Starting at a minimum order volume of only 25 pieces, those you care about will benefit from the proven combination of two lost & found system of keymail (post box service and text alert).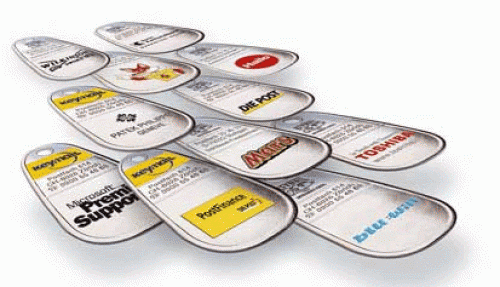 With the added benefit of complete key protection you can be sure your promotional gift will still be used for years to come. The custom accessory for everyday use not only raises awareness for your company, but this promotional item is also the ideal tool for long-term customer loyalty.
Benefits of the keymail key tag with company logo:
Key tag with your company logo
Unique customer loyalty tool with great benefit
Five year protection for lost keys through a unique 2-in1-lost & found system
Used by holders/recipients for years
Durable, abrasion-resistant (silicone sealed) and suitable for everyday use
Small minimum order volume (from only 25 pieces)
Standard gift packaging included
Custom gift wrap for a surcharge (100 pieces and more)
Ideal as a promotional gift for customers, business partners, and employee
To activate the key protection, holders simply register for an account with keymail. No follow-up costs to the holder, as the lost key protection automatically ends after give years. However, holders may also choose to extend their protection after the five year term. Holders receive returned keys via registered letter for a fee. Plus they can also use the online customer account to protect their cards for free.
Make a statement with an extraordinary promotional gift!
Order your customer key tag with your company log now from Europe's most successful key return service! Whether as a promotional gift for your customers or as a thank you gift for your employees – find all the important information here:

Gift package:


Gift packaging large